I mentioned back in my post about Boston that I was going to write a separate entry about Cambridge, Massachusetts. I spend a few weeks a year there, visiting my job's US HQ, and over the years I've figured out the best things to do in Cambridge, if you only have a short amount of time to visit (and only have time for the best places to eat). I'm looking forward to hearing from all my US friends about why I'm totally wrong in all these recommendations, but I think they're pretty solid. So let's get to it!
Just the Facts
Cambridge is basically a city-sized suburb of Boston. I wouldn't travel to Massachusetts for Cambridge alone - spend some time in Boston too.
As Cambridge is mostly residential, everything is quite spread out. If you want to get the the best out of your time there, prepare to do a lot of walking or cab hailing!
Like everywhere in Mass, Cambridge is strict about ID when it comes to alcohol. When I visited in 2013, a clearly 30+ friend was denied access to a dive-bar. If you're not American, your best bet is bringing a passport - I've have mixed success with other forms of ID.
I'm going to also throw in some Somerville recommendations in for free.
What to Do
Cambridge is a beautiful city, much calmer, and more laid back than Boston, just over the Charles River. It's mostly residential, so most of the best things to do are self directed. Which means free!
Snoop in the windows at MIT
One of my all-time favorite things to do during a walking lunch in Cambridge is to wander around the public grounds of Massachusetts Institute of Technology, peer in the windows and try to figure out what is going on inside. In most of the windows you'll find offices or lecture halls, but every so often you'll see something crazy, like a humanoid robot. Of very special interest to snoopers is the incredibly angled, mirrored, Ray and Maria Stata Center. Engineering and Computer Science students work from here, and sneaking a look in the doors and windows will usually be rewarded with something cool. While you're in this part of the college, why not sit out on the green and join some students playing Frisbee.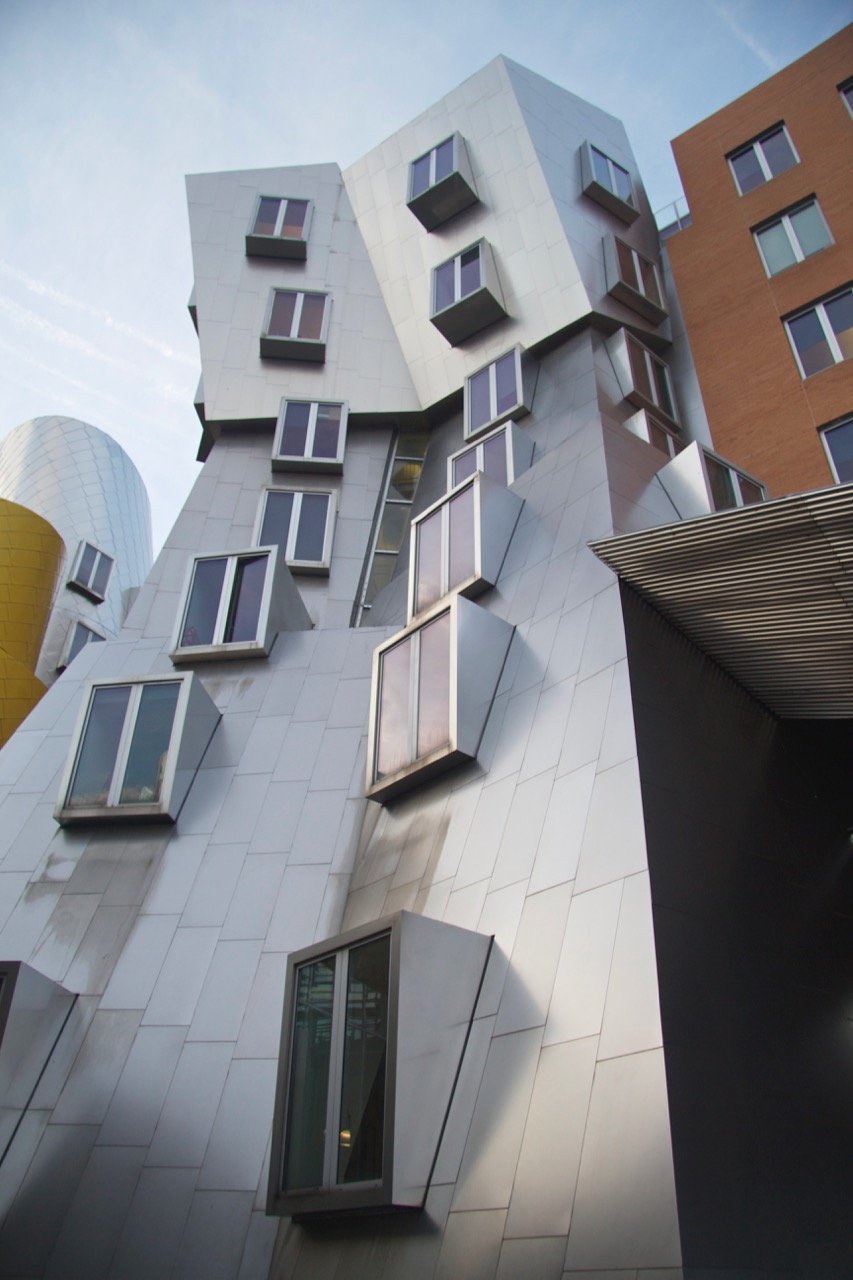 Ray and Maria Stata Center, MIT
Feel like you missed out on a useful education at Harvard
Once you have finished worrying the MIT security team, head over to the Harvard campus and go for an aimless wander. I've written in the past about how I ended up sitting in on a lecture, and while I can't recommend you do the same without an actual invite, the buildings are inspiring enough, especially in the spring and early summer when the place is lush with green. There are few places in the world which have made me even consider going back into formal education, and if you've followed my advice so far you've just visited two of them.
Go to my favorite bookshop in the world
Since you're at Harvard anyway you may as well drop by Harvard Square, which contains the Harvard Book Store, my favorite bookshop in the world. The interior reminds me of the inside of an old wooden church to the religion of reading, featuring an eclectic selection of books, and you'll want to buy them all. Whenever I visit a new city for any length of time, I try to find a bookshop to visit. Wandering around the Harvard Book Store made me realize something - the selection of books felt strongly curated. Each novel, biography and textbook had its place, and each felt lovingly chosen. Now, when I walk into lesser bookshops, I am strongly aware of the disarray they are in. Once you're finished in the Harvard Book Shop, with a curated selection of your own in hand, Harvard Square itself is a great place to stop for a coffee or some lunch. If its sunny, grab a sandwich and head back into Harvard to sit on the grass and enjoy it.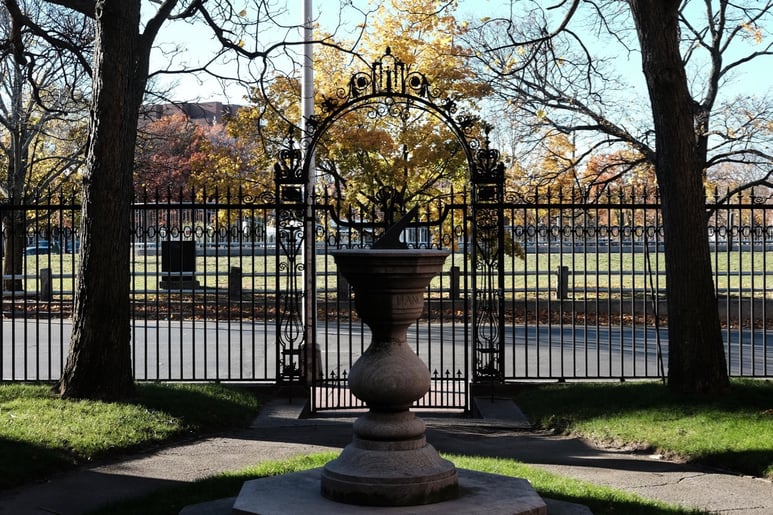 Looking out of Harvard
What to Eat
Highland Kitchen is somewhere that I try to go any time I'm in Cambridge. I was first brought by a friend who wanted to introduce me to their buffalo Brussels sprouts. I was pretty suspicious of the entire concept, but he was right - fried and smothered in buffalo sauce is in fact the finest way to eat the sprout. Please forgive me for doubting you, Andy. While you're here, try out their fried chicken.
As far as I can remember, Atwood's Tavern is the source of my first American hangover. When I first visited our US office, the guy who ran my department (the incomparable Michael Redbord, who has since become one of my favourite people) decided to bring me to his favorite bar for some drinks on the day I arrived. One thing you need to know - jetlag kicks my ass. We're talking complete zombification. Anyway, we sat at the bar, and Michael ordered round after round of beers-and-shots. My memory of that night is hazy, but I believe there was a live band, the food was good and I'm pretty certain that my manager (who also came) and I eventually managed to hail a taxi after completely forgetting that Uber was a service in order to get back to the hotel. I later learned that this is a fairly regular event for Michael, who seems to be best of friends with every bartender in the greater Massachusetts area. I've only ever managed to keep up once, when he brought me to Abigail's in Kendal Square to celebrate my lateral move into Engineering. He knew the bartender there too.
OK OK OK. Frozen Yogurt. How different can it be? Probably not all that much, to be honest. But BerryLine Harvard has a personal connection for me. The very first time I visited Cambridge, I was with my dad. We were visiting a friend, who was giving us a tour of MIT and Harvard, back when I had aspirations to continue further education. We went for an expensive dinner in Alden & Harlow (but couldn't get their off-menu burger) and then Ed brought us for what he said was his favorite frozen yogurt. I later learned, that like everything good in America, it was a chain. But at the time, a frozen yogurt shop inside what appeared to be a house was the best thing. It took me maybe three trips back to the area before I tracked down this frozen yogurt place again, and I'm glad that I did.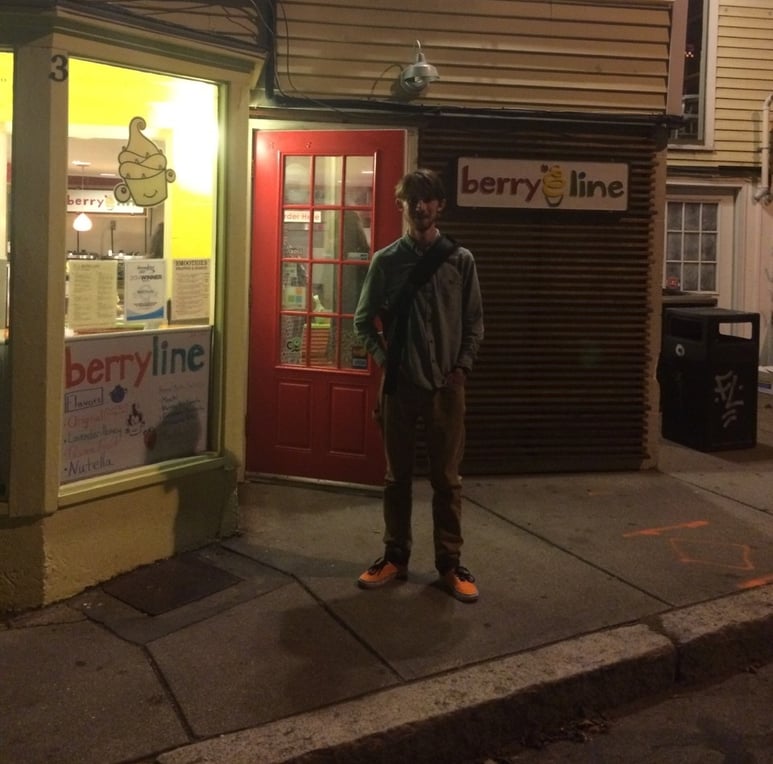 Me at the Berryline Frozen Yogurt shop, 2013, when I finally tracked it down again
I've heard multiple rumors that this place is closing down, but I've never seen any evidence of it. Visit State Park for the incredible Tabasco Honey Fried Chicken, and stay to beat all of your local friends at Shuffleboard. A friend once ordered BBQ Pulled Pork Spaghetti Bolognese here, on the same night that the waitress got all excited that the house was filled with Irish people, and presented us with a bottle of Poitín on the house. She ended up drinking more then we did.
Fantastic, reasonably priced tacos. Margaritas in a mug, and a terrifying array of spirits. What more could you want?
Wrapping it up
I still travel to Cambridge once or twice a year, and the above list is still pretty much what I do each time. But there are still so many things to do, like heading to The Paramount on Beacon Hill for the best brunch you can find, or to see Blueman Group if you have the same sort of sense of humour as I do, and want to feel like you can't breath due to laughing. These days when I'm in Cambridge or Boston I'm too busy with work to track down cool new things to do and places to eat, so I'm looking forward to hearing from all of my CAM/BOS friends on what I missed in this blog post! Let me know!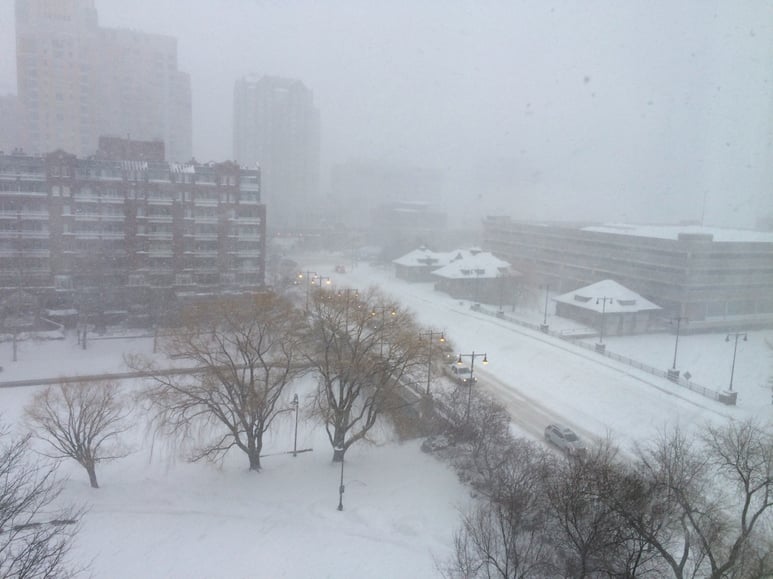 Statistically, half the time that I'm in Cambridge, it looks like this. It's cold.