I work for a Boston based tech company, and as a result I spend several weeks a year in Massachusetts, usually staying in Cambridge. When people hear that I get to travel to Boston so frequently for work they're usually quite jealous. Which is understandable - it's a pretty cool place. Just don't suggest that they're not a real city and everything will be fine...
This blog post will focus on Boston, with a and I'll write another post about Cambridge, where I spend most of my Mass Time.
Just the Facts
For those of you who are Irish, Boston is basically Dublin with Skyscrapers.
Boston is expensive, thanks to it slowly becoming the San Francisco of the East Coast
Of all the American cities, Boston is my favourite.
What to Do
If it's a good day, go chill in Boston Common for an hour. Grab a big-ass American sized smoothie from Emack & Bolio or a coffee in Thinking Cup and the latest issue of that obscure comic book you read in Newbury Comics, and hope that one of the benches at the Frog Pond is free!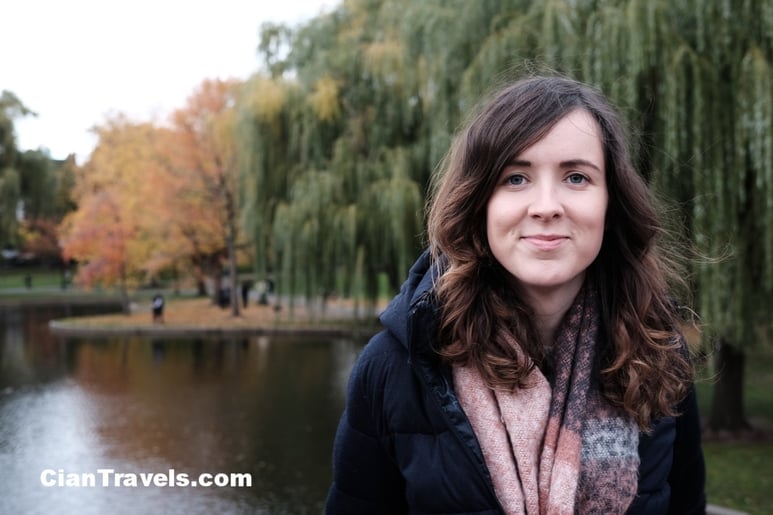 Mary and I spent the day wandering around Boston. As is my tradition, we started at Boston Common and the Public Gardens.
A fantastic way to spend half a day while learning a whole lot about American history is to walk the very Americanly named 'Freedom Trail'. The Freedom Trail is this 4km long walk, laid out with painted red bricks, that walks you past some of the most historical areas in Boston, where you will get further information from plaques and signs.
Aquariums are usually not the best. But the New England Aquarium is something special. They've got the usual child-magnet gift shop and the biologically questionable Finding Nemo themed tank, but they also have this HUGE enclosure with penguins which you can play with using provided laser pointers which project the image of a fish on the floor. They also have one of the most beautiful tanks I've ever seen - a giant column of water featuring many different species surrounded by a spiral ramp, and if you get to the top at just the right time you can watch them feed the tank.
If you are into wandering around brick-or-brack markets, check out the South End Open Market, which I'm reliably informed is one of the best in Mass. I visited it during November and it had relocated inside, but it was still pretty interesting.
What to Eat
Let's get this out of the way: By far the most disappointing thing about food and coffee in the USA is that every time you've found what you think is this great little independent coffee shop or restaurant it turns out to be a chain. Every. Damn. Time. That said, here are some of my favourite probably-independent places to get food in Boston. (If any of these do turn out to be chains, feel free to let me know in the comments but also be aware that you'll be making me sad.)
Tatte Bakery and Café
I first went to Tatte when I was showing a friend who moved to New York around Boston. It was early on a pretty cold day in November, and still the queue to be served went out the door. With great coffee, ridiculously delicious cinnamon buns (I have a weakness for a good cinnamon bun, which is a shame since Urbanity Coffee near my house have this deal which gets you a coffee and bun for €4. I'm losing years of my life) and nowhere near enough chairs, you'd be mad not to at least drop by. (Tatte currently have six locations, which in Ireland would land them squarely in 'chain' territory. For the US though, I think they just about scrape by.)
Modern Pastry (Mike's Pastry)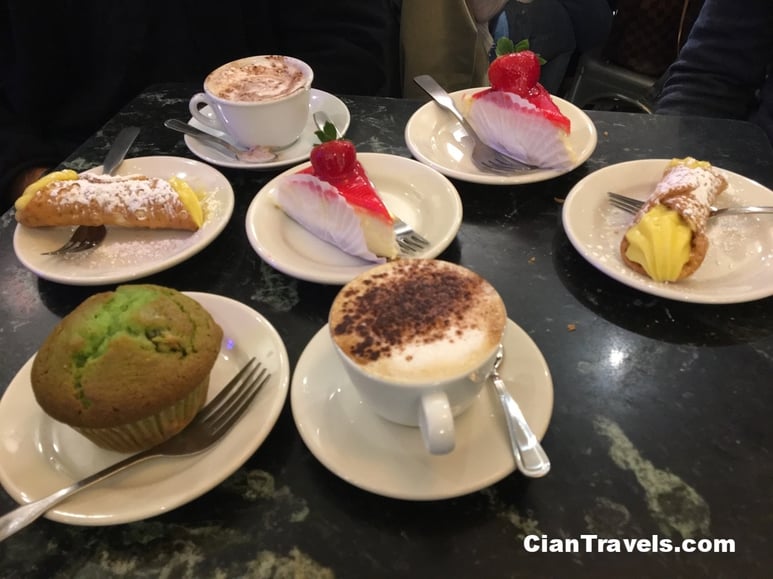 Just some of the treats that we ordered for three people at Modern Pastry.
Modern Pastry is an old-school Italian bakery. It's so authentic that when I went there with two of our resident Italian (and I'm talking actual Italian not 'my grandfather was Italian') colleagues, I'm pretty sure they both almost cried while enjoying their amazing pistachio Cannoli. These things are seriously good. We sat at a table for about 40 minutes, ordering more and more and more.
The Paramount
If you only go to one of my recommended spots while you are in Boston, make it The Paramount. This place is life changing. We're talking the best pancakes, omlettes house fries and orange juice you've ever had. But you've got to work for it.
I started spreading love for The Paramount around our Dublin office when my team (Steve, Graham, myself and one or two others) spent two weeks in Cambridge during the 2015 Snowmageddon. We're talking 64 inches of snow in a single month - the most in Boston's recorded history. There was so much snow, that our flight home got delayed by eight hours. One of us had to sleep in the airport, get a flight to Shannon and then a bus to Dublin to get home. The office was closed for 4 of the 10 working days that we were there. It was actually illegal to drive. My point is - it was snowy.
I knew about The Paramount from a previous trip, and I knew that Graham had a bit of a sweet tooth, and never turned down a bit of brunch. We left the hotel with the full intention of walking from First Street to The Paramount (the snow looked quite peaceful from inside the hotel) and made it all of 200 meters before we decided to hide in a Best Buy and order an Uber.
But just getting there is the easy part. You see - The Paramount is so popular that if you are anywhere near lunch time, there will be a queue going out the door. And for this establishment, that means a queue of a solid fifty to eighty people. So factor in an hour of queuing. During this hour, you'll change your mind about what you want to order a dozen times as you slowly pass by tables and watch the chefs expertly stack pancakes.
This is what you'll be staring at for the guts of an hour if you visit The Paramount. But it will be worth it.
So Graham and I had our brunch, and Graham's mind was blown. I knew what to expect, but I suspect that the hour standing in the queue had made him so hungry that this was literally the best meal of his life.
We spent the rest of the day telling everybody how amazing lunch was, and the next morning the four of us set out for a second delicious brunch.
My favourite order at The Paramount? Blueberry pancakes with ice cream and home fries, and an orange juice to wash it all down. And be sure to pay the extra $2 for the real maple syrup.
Lucky's Lounge
Lucky's is what an Irish person might consider a 'dive bar', but an American would consider 'a bar'. It can get absolutely slammed with people by the convention center across the river, but they have an OK selection of drinks, decent food and live music.
Last time I was there, I was with a group of maybe 20 other people from our Irish office, and 50 or so people from our USA office, and the fire alarm went off. Something that those of you who aren't Irish mightn't understand about us - if a fire alarm goes off and we are otherwise engaged (IE not staring at a blank wall), we're going to ignore it. If we can't see the fire, we won't really believe that there's anything to be concerned about.
Since the 20 of us clearly had no intention of moving, the 50 others who knew us assumed that we knew something they didn't, and they decided not to leave either. And so, the rest of the bar assumed that the 70 people who were still sitting around and drinking their pints knew something that they didn't know, and nobody left. It took a very irate chef storming out the kitchen and waving a spatula to force us outside, where we watched the local fire department unload out of their trucks and into the bar.
Oh and on Saturdays and Sundays they have a Frank Sinatra impersonator during lunch. What more could you want.
Wrapping it all up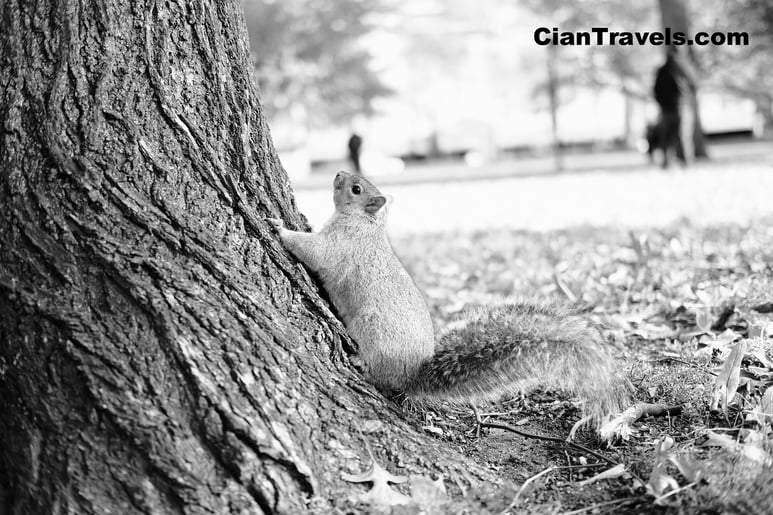 A squirrel about to take off up a tree in Boston Public Gardens
Working for an American company, the thought of relocating to Boston has crossed my mind several times. But to be honest, I don't know how I'd deal with it. I'd miss Dublin too much, and as much as I like Boston, it's definitely an 'American City' with all that it entails. I think it would be nice to live there, but only for a relatively short while. But to visit - Boston is fantastic. Every time I get a spare afternoon when I'm there, I start at Boston Common and just walk. Sometimes up Newbury street, other times down towards the sea. There's always something new to see or do!
As I mentioned at the top of the post, I'm working on another blog post about things to see and do in Cambridge. If you'd like to be notified when that goes live, subscribe below and I'll send you an email when it's out.
Update: It turns out that Panera Bread bought a majority stake in Tatte last year. This is America. Nothing is sacred. Everything you like is owned by a faceless conglomerate.