I've been to Amsterdam twice now, two trips and two vastly different experiences.
The first time I went, I traveled with a friend, stayed in an Airbnb on Wertheimpark in January and wandered the streets not really knowing what I was doing. The second time I went, I stayed with a friend, Ciaran, near Vondelpark, in February, and had a plan and a promise of an introduction to his friends. Two very different trips - one which I found only OK and a second which I loved. Here's what I learned about traveling from my trips to Amsterdam.
Just the Facts
Getting from Amsterdam Schiphol Airport to the city centre is stupid easy.
Amsterdam is filled with fantastic little out-of-the-way bars.
Coffee shops are the ones with drugs, Cafés are the ones with the coffee. Don't get confused.
You'd better look both ways before you cross, or you'll hear the angry bell of a cyclist.
Getting to Amsterdam
If you're flying into Amsterdam Shiphol airport, you're only twenty minutes away from the city centre by train. It costs less than €5 and leaves every ten minutes or so. Super easy. Once you reach Amsterdam Central, you'll be dumped in the very city centre with a mybrid of travel options available to you. If you can, jump onto one of the trams. Public Transport is paid for by the time frame, so if you're going to be in the city for a few days get a ticket which corresponds to that. Otherwise just get an hourly one on the tram itself.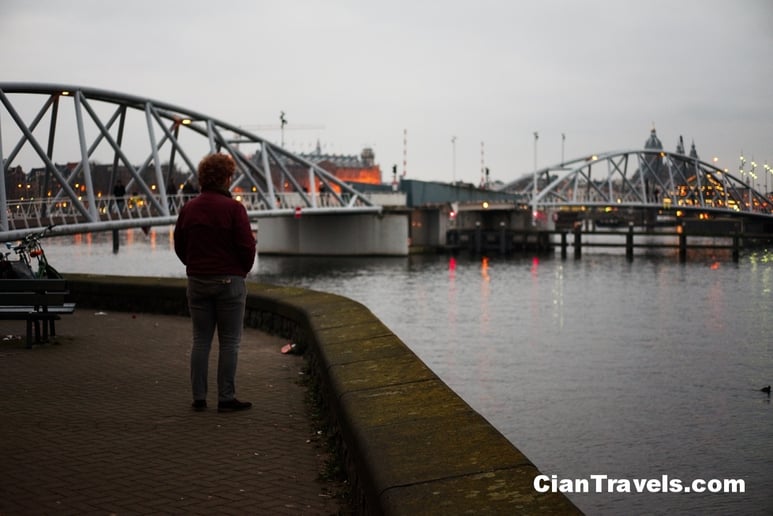 Ciaran looking out towards Central Station
What to do when you're there
Let's get the touristy stuff out of the way first. The Anne Frank Museum is great, and probably the busiest tourist spot in the city. If you decide to go (and you should), buy your timed tickets online a few days before. If you don't, expect to be queuing up outside for upwards of 2 hours to get in. I felt pretty boss walking past a giant queue straight into the house.
Amsterdam is filled with fantastic museums, the biggest of which are all in one pretty compact area, the Museum District. I've been to several, and my favourite was the Van Gogh Museum. If you decide to visit, check to see what they have in the temporary exhibit space. Another huge museum in this district which I really liked was the Stedelijk Museum of Modern Art. Locals tell me that this one is best experienced directly after visiting one of the local coffee shops.
Speaking of coffee shops, during my first trip the thing I enjoyed most was a bike tour with Mike's Bikes. A piece of advice given to the group by the tour guide was "If you can pronounce the name of the coffee shop, it is tourist crap". I'll have to take the guide at her word.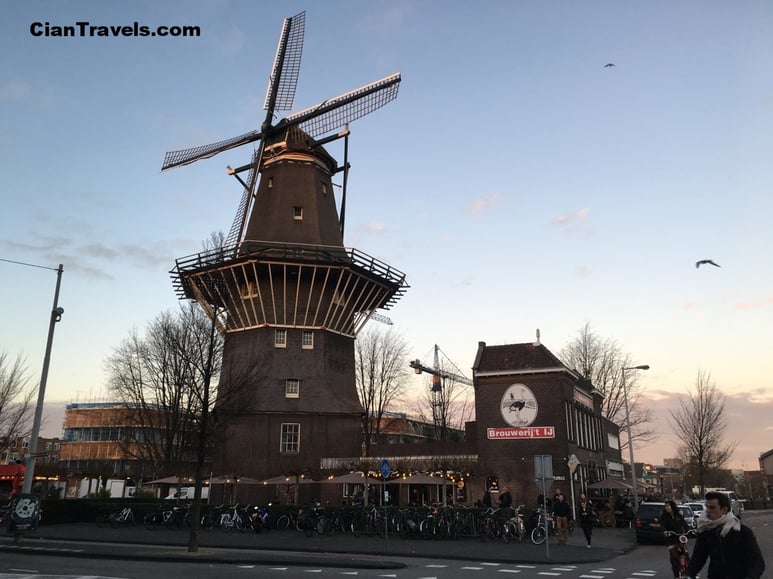 Brouwerij't IJ, a working brewery that's also a windmill that's also a bar. We went there for a drink or three half way through our Mike's Bikes tour.
Going a bit outside of the traditional tourist spots, I'm a huge fan of photography (and like to think that I'm not too bad at it myself). Foam is "an internationally operating organisation in the field of photography" and have a wonderful gallery in Amsterdam. If you are at all interested in pictures, definitely check this one out.
As well as being a bit of a photography geek, I'm a huge film nerd. And Amsterdam has probably the coolest movie theater I've ever been to, Pathé Tuschinski. I haven't yet managed to get to a film here, but I've wandered around inside and it looks like something special. At least put it on your list to check out the crazy facade of the building.
If you've got an hour or so to spare and you're hanging out around Central Station, check out the huge public library. Ciaran and I found two radio stations, a giant selection of books and the best free views across the entire city up on the top floor.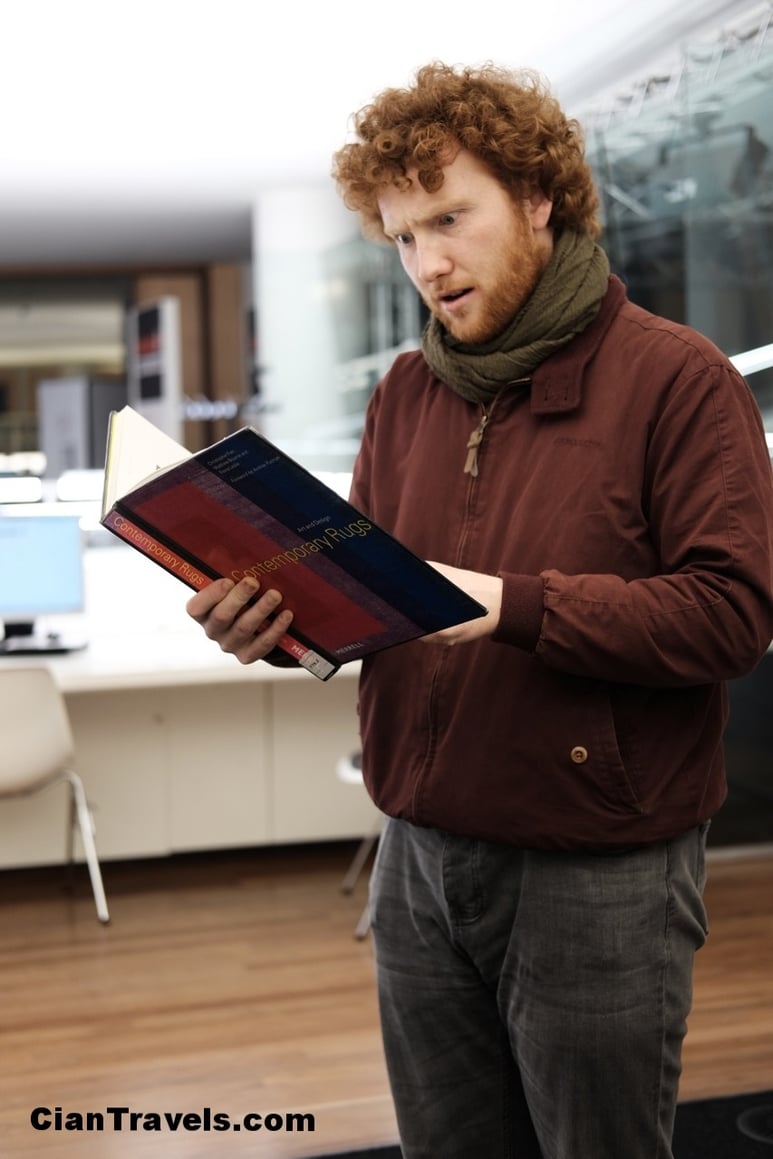 Ciaran discovering a fascinating tome in Amsterdam Public Library
Where to eat
Anybody who knows me knows that I'm a huge food nerd. I love food. I cook, I eat out, and I'm mad for a good cocktail. Thankfully, unlike Iceland, Amsterdam is filled with many great places to eat and drink. I've picked a restaurant, cocktail bar, and café that I really enjoyed during my trips.
Restaurant - Café van Kerkwijk
Café van Kerkwijk is by far my favourite place to eat in Amsterdam. It's a bit of a special experience - they don't have a menu, just a waiter who has learned the whole thing off by heart, and knows the answer to every possible question you could ever have. All the food is delicious, but I insist that you have the apple pie for desert. Also watch out for the resident cat roaming around - she's friendly!
Cocktail Bar - Tales and Spirits
I've been to many cocktail bars throughout my travels, but Tales and Spirits remains my favourite. What I love about this place is the little details. Take my most recent trip to the bar - when Ciaran and I arrived, the bouncer asked us to wait a few minutes for a table, but opted to join us outside as we waited and we had a great chat. Once we arrived inside the hospitality continued (after we agreed to the bar's extensive house rules). Our host plunked a bowl of crispy treats down in front of us and left us with an absolute tome of a menu, dropping by after a few minutes to see if we had any questions. As he made us each round of drinks, he also gave us a bottle of fancy high-end water, which is probably my favourite touch from the whole night. Like Café van Kerkwijk, I have a rule if you take my advice to try out Tales and Spirits - try as hard as you can to get a seat at the bar. You'll learn a whole lot about cocktails and get some great chat out of the hosts. The first time I went to Tales and Spirits, my friend and I accidentally stayed until closing time. I wouldn't be surprised if you do the same!
Café (not Coffee Shop) - Screaming Beans
I'm not sure if Screaming Beans is a small chain or not. Their website is in Dutch. All I know is that their coffee is fantastic, and they have a wonderful yogurt and fruit bowl. Also, free wifi. Try it out!
Surprise Entry - Café Fest
Surprise! One more recommendation for those of you who want a more energetic studenty atmosphere - Café Fest. The night I arrived Ciaran brought me here to meet a few of his friends, and despite being pretty tired I really enjoyed spending time here.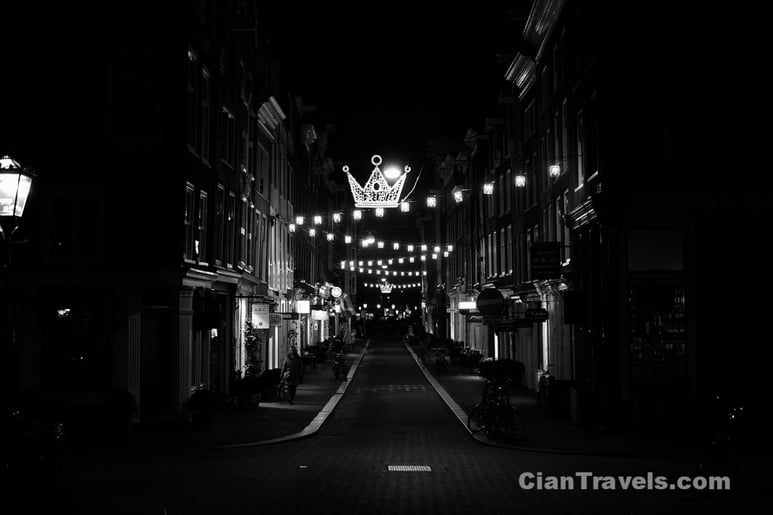 The Nine Streets in centre of Amsterdam are a great place to wander. Loads of cool tiny cafés and weird shops.
Wrapping it all up
Amsterdam is the first city that I've been to which made me think 'Damn, I could move here for a while'. What's interesting though is that I didn't initially think this. In fact, the first time I went to Amsterdam I was thoroughly unimpressed by the city. The second time I went I stayed with Ciaran, met Ciaran's friends and took their recommendations on how to fill my day. One of the hopes that I have for this blog is that I'll be able to build a community of locals who can offer similar advice for any city that I travel to, so if you like what I'm writing and want to read more (and maybe get an email for me looking for recommendations for one of my future trips) go ahead sign up for email updates.